your incoming operator for Bergamo and the Lombardy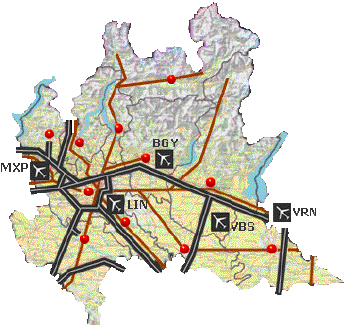 Bergamo and the Lombardy
Bergamo and its province are located in the heart of Lombardy with excellent rail and air connections with the whole Italy and the rest of the world. The city centre of Bergamo is located 5 Km from the international airport of Milan Orio (BGY), 45 Km from the international airport of Milan Linate (LIN) and the new airport of Brescia Montichiari (VBS), 90 Km from the intercontinental airport of Milan Malpensa (MXP) and 95 Km from the international airport of Verona Villafranca (VRN). The railway station of Bergamo is located right in the centre of the town and just one hour away from Milan and Brescia. The Lake of Garda and the Swiss border are just 60 Km away.
The itineraries and the contents of the excursions contained in this site may be modified without notice by the Operator or on request of the customers. The excursions described in this site may take place during each day of the week and on departure of virtually each location of Lombardy and adjacent regions. The escursions are fully escorted, include entrance fees and english, italian, french, spanish, german, russian or arab speaking guides. (Some excursions can be guided in other langauge, please ask for details).
The motorcoaches used during the excursions are recent and equipped with heating and air-conditioning, the tourists transported are insured against the accident injuries.
HOTELS *** and **** are available in BERGAMO, MILANO, BRESCIA, COMO, VERONA, VICENZA, and all major towns of Northern Italy, in SKIING RESORTS, in SPA RESORTS, in MOUNTAINS SUMMER RESORTS, on the SEASIDE OF THE LAKES OF LOMBARDY (ASK FOR QUOTATIONS!).

[ Home ] [ Benvenuti a Bergamo! ] [ Bienvenus à Bergame! ] [ Welcome to Bergamo! ] [ Bienvenidos a Bergamo ]