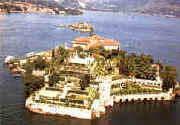 THE LAKES
SE1 Lake of Iseo and Montisola, half day, all days
LA1 Lake of Como, Como and Bellagio, full day with lunch, all days except Sundays
VB1 Stresa and the Isola Bella, full day with lunch, all days
BE1 Lake of Garda, full day with lunch, all days except Mondays
THE RIVERS
MC1 Cruise on the river Mincio, full day with lunch, all days except Sundays and Mondays
BT1 Cruise on the river Brenta, full day with lunch, all days

THE SEA
TG1 Rapallo, Portofino and St. Fruttuoso, full day with lunch, all days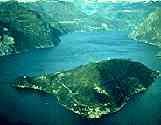 SE1
Lake of Iseo and Montisola (Half day): Populated since the Roman époque, Montisola is the largest lake island of Italy. The medieval villages are pleasant and rich of historic remains, such as the Sanctuary of Our Lady of Ceriola, the church of St. Severino (XVI Century frescoes), the fortress Oldofredi (XV Century), the Villa Ferrara by the harbour, built on the site of an old Monastery.
LA1
Lake of Como, Como and Bellagio (Full day with lunch. All days except Sundays): City tour of Como with the Cathedral of '400, the Broletto, the church of St. Fedele (XII Century), the mausoleum of Alessandro Volta, Villa Olmo, the church of St. Austin. Sail to Bellagio, and tour of the city fine historic centre with the characteristic maze of small streets, squares, steps and arches. Visit of Villa Melzi (built on Empire style, rich of sculptures and other important works of art) and of the beautiful park.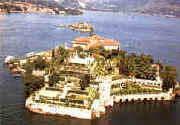 VB1
Stresa and the Isola Bella (Full day with lunch): City tour of Stresa with the Villa Pallavicino and the Park, the church the Holy Crucifix with the cenotaph of Antonio Rosmini by Vela. Sail to Isola Bella and visit of the magnificent Palace Borromeo (XVII Century), with beautiful arras, pieces of furniture and pictures, and of the terraced Italian gardens (baroque), full of rare plants and flowers.
BE1
Cruise on the Lake of Garda (Full day with lunch. All days except Mondays): City tour of Desenzano del Garda with the centre and the Roman Villa. Sail to Salò and stroll thru the city. Visit of the Museum of the Blue Ribbon (Nastro Azzurro) and of the Cathedral.


MC1
Cruise on the river Mincio (Full day with lunch. All days except Sundays and Mondays): Cruise from Mantova to San Benedetto Po, sailing through fascinating atmosphere and landscapes of Lombard Padan Plains. City tour of Mantova with the Palace of the Dukes, the Herbs Market Square and the Cathedral.
BT1
Cruise on the river Brenta (Full day with lunch): In Strà visit of Villa Pisani, also known as Villa Nazionale, with a beautiful fresco of Tiepolo. In Dolo visit of the Old Mills dating back of XVI Century (local products tasting included) and embarkation. Sail the Brenta river in the basins of Dolo and Mira and visit of the Villa Widmann-Foscari and Villa Gradenigo in Oriago. Sail to the Venetian Lagoon.

TG1
Rapallo, Portofino and St. Fruttuoso (Full day with lunch): City tour of Rapallo, with the Castle (XVI Century), the Town Tower and the fascinating historic centre. Embarkation and cruise within the splendid coasts of the Gulf of Tigullio (two hours approx). Disembarkations and visits in Portofino, capital of high life, and S. Fruttuoso.


[ Home ] [ Itineraries ] [ Excursions ] [ Daily Cruises ] [ Meetings ] [ School Groups ] [ Sport Tourism ] [ Informal Lodgings ] [ Transfers ]