Located in Schilpario (1.135 m asl), in Scalve Valley, the far northeastern valley of the province of Bergamo. Open year-round.

Schilpario is 65 Km away from Bergamo and Brescia, 60 Km from Milan Orio al Serio International Airport (BGY), and from closest motorway toll station (A4, exit Bergamo).

The village can be reached driving through the Presolana Pass or through the very scenic Via Mala.

In the village see the Ethnographic Museum, hosted in an old building on the bank of river Dezzo and the XVII Century Church of St. Anthony of Padua with the bell tower topped with the statue of the Saint, boasting paintings of Cifrondi and Querena and the marble cenotaph of Cardinal Angelo Maj, born here.

Sporting people can enjoy ice rink, cross-country ski rings, horseback riding, climbing camp and extreme activities Camp.

In the vicinity:

Within 5 Km: starting points for Eastern Orobie Trail and pathways leading to Alpine Refuges of Albani, Tagliaferri, del Vivione,…

4 Km away: Pianezza, entry point to the valley of Gleno, with the ruins of the dams collapsed in 1923 causing more than 600 victims.

12 Km away: the ravine of the Via Mala.

15 Km away: the ski-resort of Colere 2200, the Passes of Presolana and Vivione linking the Scalve and the Camonica valleys.

20 Km away: Boario Spa Resort.

24 Km away: Rovetta with the old centre and the House of Fantoni, a museum boasting many sketches, drawings and models of the famous family of wood-carvers and cabinet-makers.

26 Km away: Clusone with the Square of the Clock (old astronomic clock of 1583) and the Oratory of Disciplini with frescoes of late '400, among which are the very famous Trionfo della Morte (Death's Triumph) e Danza Macabra (Macabre Dance).

28 Km away: the ski-resorts of Monte Pora and Montecampione have ski lifts for downhill skiing, tracks for cross-country skiing, ice-skating rinks.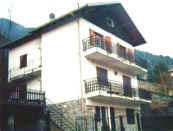 Villa Soliva is located in a very sunny and quiet area of the village a few minutes away from the centre. The apartment feature one double sleeping-room, one room with twin beds, one large fully furnished kitchen with double sofa bed, bathroom and balcony overlooking the area.
The apartment has individual heating equipment and collection of books.
Self Catering (1 apartment, max capacity 6 beds)
Rates per apartment per week (weeks starts on Saturdays)

low season

195 €

peak season (Easter week, July, August, Christmas and new Years Eve weeks)

395 €
Welcome pack available. Languages spoken: Italian, English.
Cleaning on departure 30 €, cooking-gas and electricity usage to pay on site.
Caution money 150 €.