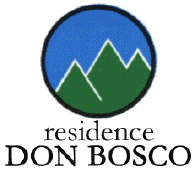 Located in Fino del Monte, Upper Seriana Valley. Open year round.
Fino del Monte is 35 Km away from Bergamo, from Milan Orio al Serio International Airport (BGY) and from closest motorway toll station (A4, exit Bergamo).
In the vicinity:
1 Km away: in the pine forest one cross-country ski track and one ice rink.
3 Km away: Rovetta with the old centre and the House of Fantoni, a museum boasting many sketches, drawings and models of the famous family of wood-carvers and cabinet-makers.
4 Km away: Clusone with the Square of the Clock (old astronomic clock of 1583) and the Oratory of Disciplini with frescoes of late '400, among which are the very famous Trionfo della Morte (Death's Triumph) e Danza Macabra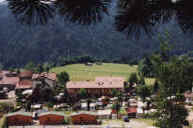 (Macabre Dance).
6 Km away: the massif of Presolana.
8 Km away: the ski resort of Monte Pora.
16 Km away: the ski resort Colere 2002.
18 Km away: the Cold Valley, a very small natural area situated 360 m a.s.l., where, thanks to underground air streams, plants and flowers typical of the high alpine habitat grow. Luckily, one can found and observe the edelweiss, normally not growing under 1.700 m a.s.l. Due to delicacy of the ecosystem the valley may be visited guided by Park Rangers on Saturdays and Sundays of May, June and July only.
20 Km away: the Lake of Iseo with Montisola, the European largest lake island, true green jewel boasting small villages and patrician palaces and Lovere, small city full of noble palaces, monuments and churches, with a medieval city centre sloping down the lake.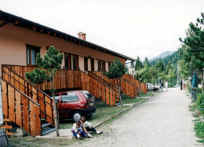 The Residence Don Bosco is located in a nice, sunny setting at the foot of the Mount Presolana, 750 m a.s.l. and features split-level apartments with two (max capacity 5 persons) or three (max capacity 9 persons) bedrooms, bungalows for four persons (1 double-bedded room, 1 sofa bed), one split-level chalet for 6 persons, veranda, bathroom and fully furnished kitchen. All units have individual heating and colours TV (to be reserved at 7 € per week).
The residence compound features all sort of facility: small swimming pool (summer only), large gardens with children playground, bbq area, solarium, dancing area, restaurant-pizzeria, take-away, mini-market, private car park.
Self-Catering (11 apartments - max capacity 62 people)
Rates per apartment per week (weeks starts on Saturdays)

two bedrooms apartments

,

bungalows, chalet

three bedrooms apartments

Mar 30th thru Jun 8th and Sep 28th thru Dec 21st

155 €
180 €

Jan

6th thru Mar 30th, Jun 8th thru Jul 6 and Sep 7th thru 28th

290 €
350 €

Jul 6th thru Aug 3rd and Aug 24th thru Sep 7th

340 €
400 €
Aug 3rd thru 24th and Dec

21st thru Jan 5th 2003
594 €
750 €
20% supplement on Easter week and weeks including Apr25th and May 1st.
Rates include beds linens, reserved car shelter, use of pool.
Pets accepted at 10 € per week. Reservation required.
Rates do not include fee for using up electricity, water and cooking-gas and for cleaning on departure (to pay on site).
Caution money 100 € to arrange on site.